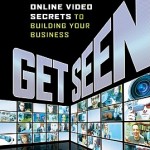 GET SEEN by Steve Garfield (Wiley)
I've been spending more time making videos, and that meant first getting set up to do video. It was frustrating and confusing. What camera? What mic? Daylight or studio lights? Green screen or set? Where to host the files? It was making me crazy. Well, Steve Garfield was one of the original video bloggers, and he has all the answers rolled up in one place in his book GET SEEN.
If you're even thinking about making videos (and you probably should be), you need this book. It will save you days that you would have wasted on research, and lead you to the best answers, which isn't guaranteed even if you do spend a lot of time on research.
Nearly every page has information you'll want to refer to later, and it's filled with links to examples that let you see how things will look and work. (Steve has also compiled all the links on his Facebook page to make it easier to visit them as you read, but you definitely want the book, not just the list of links.)
Amazon, Book Passage, Book People, Books-a-Million, Books, Inc., Changing Hands, IndieBound, Joseph-Beth Bookstore, Kepler's, Politics and Prose, Porter Square, Powell's, Tattered Cover, Wiley