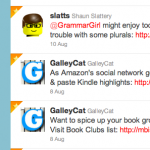 Twitter is making changes to its Web interface that may cause you to rethink how you use the "favorite" feature. A small group of users are seeing the @Mentions tab being replaced with a tab that has your username and a new "Activity" tab, and Mashable says the change will be gradually rolled out to all Twitter users.
The new "Activity" tab is more like a news feed, and you will see, among other things, tweets people you follow have marked as favorites. That's great, if your favorites are actually your favorites, but if you're like me, you also use "favorite" to bookmark tweets that you want to deal with later. If so, the change means your followers may believe something you haven't even read yet is one of your favorite things. It's time to save those "read later" tweets another way.
Mignon Fogarty is better known as Grammar Girl and the author of 101 MISUSED WORDS YOU'LL NEVER CONFUSE AGAIN. Follow her on Twitter: GrammarGirl.