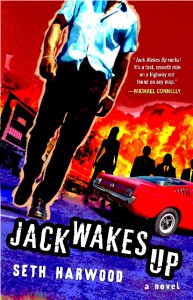 In this podcast Mignon interviews Seth Harwood, author of "Jack Wakes Up."
Seth is a trained writer, who teaches writing at San Francisco City College and Stanford. He is known as one of the leaders in online book marketing and his novel "Jack Wakes Up" came out in May.
We talk about
* the plot
* why it's a good book to read on a plane or on the beach
* what his writing and revision process is like
* why the book is in the present tense
* how he uses diction and syntax to distinguish his characters
* how he planned his book tour
* the pros and cons of BookScan
* his new projects including Author Web 2.0 Boot Camp at Stanford and the Crime Wav Podcast
* social marketing on Twitter (@sethharwood), Facebook (sethharwood), and GoodReads
Find out more about Seth at SethHarwood.com or meet him September 19 in New York at the Writer's Digest Conference where he's presenting "Podcasting Your Way to Book Sales."
Buying stuff at GoDaddy.com? Use our discount code, POD115.