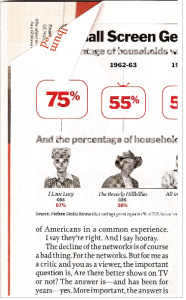 I'll say it first: I'm a nerd. I got so excited about seeing an unusual sentence construction that I had to share it with you.
This wonderful capital letter in the middle of a sentence is perfectly correct; you just don't see it too often. In case you can't read the scanned image, the sentence reads "But for me as a critic and you as a viewer, the question is, Are there better shows on TV?"
I wrote about that kind of construction on the Grammar Girl blog. The funny thing is that I didn't much care for it when I wrote about it, but I'm tickled pink to see it in print.
Thanks to Jamie Poniewozik for writing that odd sentence in his April 6, 2009, Time article, "Here's to the Death of Broadcast."