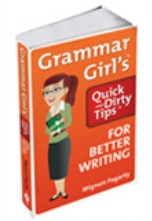 People have been asking if they can get signed Grammar Girl books for the holidays, so I checked with my publisher and got a green light!
WHAT YOU GET
Here's how it will work:
I'll sell each signed book for about $18.00 $19.00. (That's the cover price plus ~$4.00 $5.00 for postage, PayPal fees, and a book-sized envelope. Yes, I will give a discount for combined shipping. Two books shipped together will be ~$36.00. I'm just charging actual costs; no markup.)
I'll giftwrap your book or books for an additional $10 per book. (Why so much? I hate gift wrapping, but if you desperately want it, I'll do it and try to make it pretty.)
HOW TO ORDER
If you want to buy signed books, send an e-mail message to mignon [at] behindthegrammar [dot] com with the following information:
How many books you want
What you want each signature page to say (I'll be happy to just sign my name or write a short personal message.)
Whether you want giftwrapping
The shipping address or addresses
I'll write back and tell you exactly how much it will cost.
You will pay through PayPal.
I'll sign and send the books.
LIMITATIONS
U.S. and Canadian orders only. Sorry. (Why? I'd have to physically go to the post office and stand in line to mail them. With U.S. and Canadian orders, I can buy stamps and drop the envelopes in any mailbox.)
Place your order by December 18, 2008.