The new iPhone update includes software that lets you download podcasts right from iTunes to your iPhone. No longer must you hook your phone up to your computer, download podcasts to the computer, and then transfer them to your iPhone anymore. This will be GREAT for people who travel.
Unfortunately, the workflow isn't hit-you-over-the-head obvious. Here's how you do it.
From your iPhone home screen, hit the iTunes icon.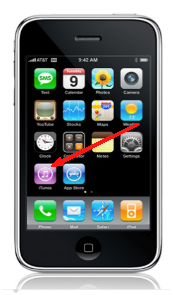 If you know what you're looking for, you can tap "Search" and enter the podcast name; if you want to browse, you can tap the "Podcasts" icon.

Once you get to the show you want, you'll see all the recent episodes listed with their length, release date, and a "FREE" button next to them.
Tap the "FREE" button, and it will turn into a "DOWNLOAD" button, which you have to tap again.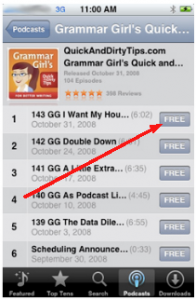 Here's where it gets kind of tricky. After the file downloads, the episode title will turn gray. To play the episode right then, you click on the grayed out title.
If you want to play the podcast later, tap the "iPod" icon on your home screen: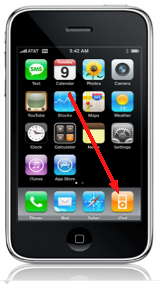 Tap "Podcasts," and you'll see all the shows from which you've downloaded episodes. Click on the show to go to a specific episode.