I found myself with patty pan squash and no idea what to do with it.
I'd never even seen it before, let alone cooked with it. I cruised a bunch of recipes, pulled out some cookbooks, discovered I was missing ingredients for everything I wanted to make, and eventually cobbled together this recipe, which ended up being delicious.
This is the first recipe I've ever created that was original enough and good enough that I wanted to share it with the world. I'm bursting with pride!
I used kelp noodles because I like them and they're about 18 calories per bag, so I can go guilt-free wild with the walnuts, but I'm sure regular noodles would be fine too.
I used patty pan squash because it's what I had, but I'm sure zucchini would be fine too.
Serves 1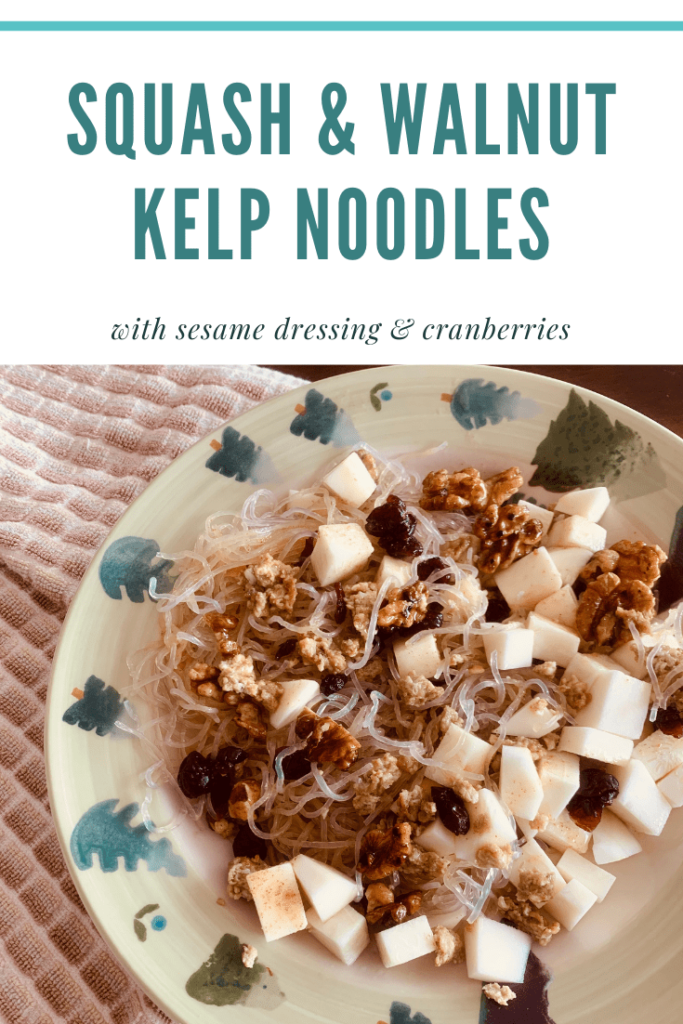 Ingredients
1 small patty pan squash 1
1 12 oz. bag of kelp noodles 2
juice of 1 lime
1 egg
1 T. olive oil
2 T. dried cranberries
Candied Walnuts
1/2 c. walnuts 3
2 T. brown sugar
2 T. water
1 t. vanilla extract
a few shakes of salt
Sauce
1/4 c. olive oil
1 T. tahini
1 T. ground coriander seeds
1/2 t. chili oil 4
Directions
Cut the squash into bite-sized cubes. Remove rind. Set aside.
Remove kelp noodles from bag, drain the packing liquid, and rinse.
Optional: Soak noodles in water plus the juice of one lime for about 30 minutes. This makes the noodles a little more noodle-like and a little less crunchy.
Making the walnuts
To make the candied walnuts, first dissolve the brown sugar in the water and add the vanilla and salt. Salt to taste; I don't use much.
Toast the walnuts in a saucepan on the stove at medium high heat. Stir occasionally until they smell toasty. (~3 minutes?) Add the brown sugar mixture and immediately stir. Be careful; it will sizzle.
Keep stirring until the walnuts are coated and there is no more sugar liquid in the bottom of the pan. Pour the coated walnuts onto parchment paper on the countertop to cool. (You will have leftover candied walnuts. Store them in the refrigerator.)
I suppose you could also just buy candied walnuts.
Making the sauce 5
Pour the olive oil into a jar.
Add the tahini, ground coriander seeds, and chili oil. Stir.
The coriander seeds may settle, so be sure to stir the sauce right before you pour it over the other ingredients.
Scrambling the egg
Break the egg into a bowl and whisk.
Pour 1 T. of oil into the pan you used to candy the walnuts, and heat to medium high. Pour the egg into the hot pan and move it around with a spatula until it is done. (~1 to 2 min.?)
Assembling
Drain the kelp noodles and put 2/3 on a plate.
Put the squash, walnuts, cranberries, and egg on top of the noodles. Pour half of the sauce over the top. Enjoy!
Notes
I imagine any squash that tastes good raw would work.
Kelp noodles are wonderful, but I imagine any noodle would work. I can only find them in the 12 oz. size, but that felt like too much for this recipe. You can store the extra noodles in water in the refrigerator for a few days. I often just throw them in salads. They are also good with peanut sauce.
I actually have no idea how many walnuts I used. I just covered the bottom of a standard saucepan. If you want to make enough for just this recipe, use less. You can store the extra candied walnuts in the refrigerator.
I didn't have chili oil, so I made my own by mixing about 2 T. olive oil with about 2 T. chili flakes. I let it sit for ~15 minutes and then strained it through a coffee filter. Add this to taste and start with a tiny bit, using more if you want it spicier. I used maybe ~ 1/2 t. and stored the rest in the refrigerator.
This makes two servings of sauce. I store it in the refrigerator and use it as a salad dressing.
Kelp noodle link is an affiliate link.