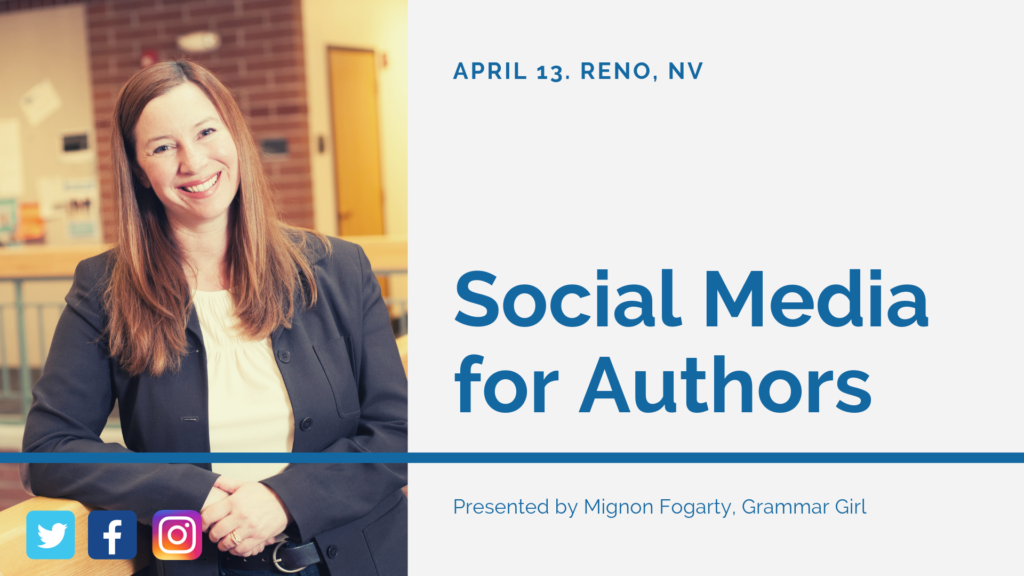 NOTE: THIS EVENT WAS ORIGINALLY SCHEDULE FOR APRIL 13, BUT HAS BEEN RESCHEDULED TO JUNE 8.
Authors often ask me for advice about how to get started on social media or grow their followings. I have large social media followings myself, I've taught such classes at the University of Nevada and done independent studies with graduate students, and now I'm teaching a one-day workshop that is open to the public.
WHEN: Saturday, June 8. 10:00 am to ~4:00. (I will stick around at the end to answer questions.)
WHERE: South Valleys Public Library, 15650 Wedge Parkway, Reno, Nevada.
COST: The workshop is put on by the High Sierra Writers. The pre-lunch session is free, and the post-lunch (more in-depth session) is $30 for members and $50 for non-members. Lunch is not included.
The library does not allow groups to collect payment on site, so you need to pay in advance on the High Sierra Writers website.
FORMAT
In the free morning session, we'll discuss the reasons you might want to use social media (it's more than just selling your book!), and we'll discuss the research that shows why readers would want to interact with you and help you on social media. Knowing why will help you make better posts—posts that people want to read and share.
In the afternoon session, we'll get into the nuts and bolts of creating good posts on social media. I'll show you examples from people who are doing it well, share resources to help you make better posts, help you find the right people to follow for your niche, and answer questions.