Almost everything is here! The posters, bookmarks, postcards, individual cards, cool tokens, instruction manuals, and shipping materials are all sitting in my living room; I'm just waiting for the decks to arrive to start assembling the packages for shipping.
The company printing the decks gave me an estimated ship date of June 17, but obviously, they missed that date. Apparently, they didn't have enough blank deck boxes for printing when they got my order. They now tell me they expect to ship the decks to me early next week.
One thing I've learned through all this is that getting games printed is complicated. On the other hand, I've been wildly happy with the company that printed the instructions, posters, bookmarks, and postcards: smartpress. I've looked at somewhere between 5 and 10 printers while pulling this all together, and SmartPress was the easiest to work with. You can get accurate quotes online, order online, and see your proofs online; but if you need personal help, a real person answers the phone, and you can also get hard proofs for a small additional fee (which I did). Their automated system also kept me informed at every step of process. They even contacted me when I ordered the bookmarks to let me know that if I placed the order in a different way, I could save about 40%. This is an unsolicited endorsement and they aren't paying me or giving me discounts—I just love them, especially after all the problems I've had with playing card printers. If you need the kind of products they print, check out smartpress.com.
Here are the pictures of the items I have so far:
POSTERS
The picture doesn't do them justice. They're big: poster-size.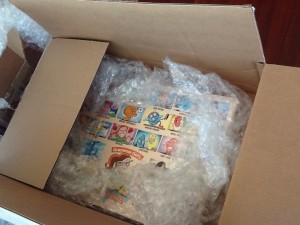 POSTCARDS
They looks tiny compared to the posters. They're like cute little mini-posters!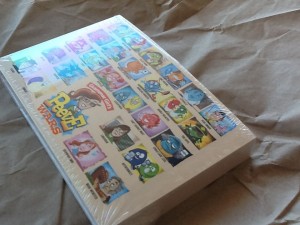 INSTRUCTION MANUAL
I'm glad I redid the manual; it turned out much nicer than the original manual, and because it's a different size, you'll be able to fold it to fit inside the box for storage.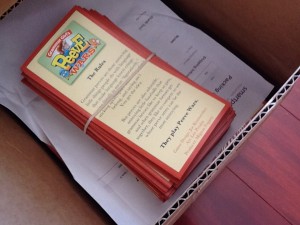 BOOKMARKS AND COOL TOKENS
I'm sorting the cool markers into plastic bags for shipping so they don't get lost, but you'll be able to store them in the box with the deck and instructions.
I wrote funny text for each of the bookmarks—a tiny story about the peeve or hero.
The box that contains one of the mystery-box rewards is also in this picture. It's still a secret, but I think you're going to like it!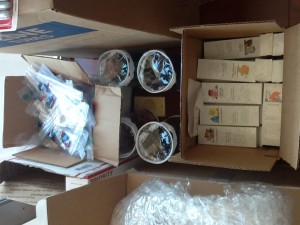 COLLECTIBLE CARD SETS
The game printer did send the individual cards for people who ordered a collectible set, and I've started placing them in their protective holders. This picture doesn't do them justice; they look fantastic! Seeing the whole set laid out like this was another "wow" moment in which I got that amazing feeling that we have made something real.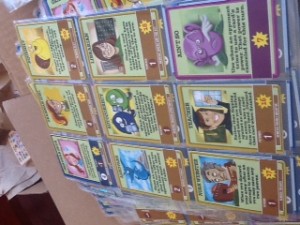 Thanks again for your support!
Mignon