File this under "random things I do."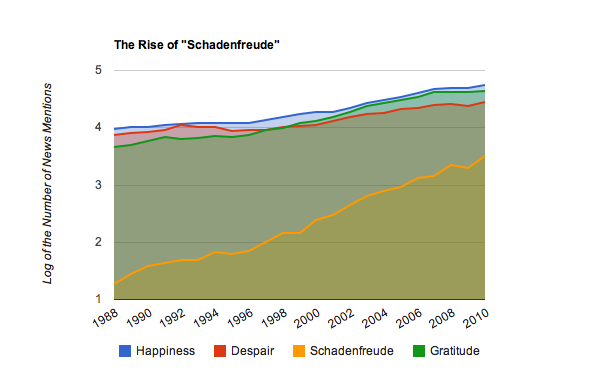 I read an offhand comment somewhere that "schadenfreude" (a word from German that means to take joy in other's misfortune) had seen a jump in use in the late 1990s, and I wanted to see if that was true.
The chart above is the log of the number of times each word turned up in a Google News search for that specific year. This is clearly a small sample and not scientific, but I tried to use words that were similar in that they described a feeling, and I wanted to include positive and negative feelings to control for possible broad changes over time in the sentiment of news writers or the country. I used a log scale because "schadenfreude" was used so much less often than the other words that I couldn't see how they tracked together.
My pulled-out-of-thin-air theory is that around the dotcom bust, people started using "schadenfreude" because it felt good to see all those overnight-millionaire 20-year-olds get knocked back down to earth, and then more people were aware of the word and it started being used more regularly as appropriate things came up in the news–Martha Stewart's insider-trading conviction*, Bernie Madoff's cancer rumor, and so on.
What do you think?
[Update: Thanks to @StolenDay on Twitter for pointing me to a blog post about "schadenfreude" in The Simpsons, which also led me to a New York Times post about "schadenfreude" usage in the Times. Many people, including that NYT writer, have mentioned the Broadway show Avenue Q, which includes a song called "Schadenfreude," but Avenue Q didn't debut until 2003.]
*I stand corrected. Martha Stewart was not convicted of insider trading. According to Wikipedia, she was convicted of securities fraud and obstruction of justice. The schadenfreude still applies.