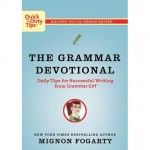 THE GRAMMAR DEVOTIONAL by Mignon Fogarty (Henry Holt)
It hit me this morning that it's already time to think about gifts! Last year a bunch of people got my book The Grammar Devotional for their children's teachers, and I got a lot of feedback that the teachers enjoyed it.
Although it's not based on a calendar, the book has 365 individual writing tips, which makes it an especially good book to start in the new year. Think of it as a tip-a-day calendar that isn't tied to a date, and you get to keep all the pages instead of tearing them off and throwing them away. It also has word-search puzzles, word scrambles, and cartoons.
Here's an interactive excerpt so you can see what the tips are like.
Amazon, Barnes & Noble, Book Passage, Book People, Books-a-Million, Books, Inc., Changing Hands, IndieBound, Joseph-Beth Bookstore, Kepler's, Macmillan, Politics and Prose, Porter Square, Powell's, Tattered Cover