SALINGER UPDATE
(I'm now pondering the difference between an article and a story.)
PODCASTING
Movie studios are posting single clips as podcasts. The worst offenders:
Underworld — 1 MP3, last updated in April
Street Fighter — 1 MP3, late updated in late June*
Fired Up — 1 MP3, last updated in late May
Just Not That Into You — 1 MP3, last updated early May
Harry Potter — 1 MP3, last updated in late June*
Angle of Death — Award for worst offender! TWO feeds, each with 1 file.
I'll concede it's possible that the feeds with one file posted recently could send out more stuff in the future.
BARTLEBY
American Heritage Guide to Contemporary Usage and Style at Google Books
Common Errors in English Usage — Paul Brians' website
AMAZON FREAK OUT
Industry Begins Debate Over Removal of Kindle Titles — Publishers Weekly
Some eBooks are More Equal Than Others — David Pogue in the NTY
TWITTERVERSE AND TWITTERATI MAKE IT INTO THE COLLINS DICTIONARY
Mashable's story about words being added to the Collins Dictionary
OXFORD UNIVERSITY PRESS HISTORICAL THESAURUS OF THE ENGLISH LANGUAGE
Slate's Culture Gabfest podcast talking about the Urban Dictionary (scroll down to the July 8 episode)
GRAMMAR GIRL IN CHINESE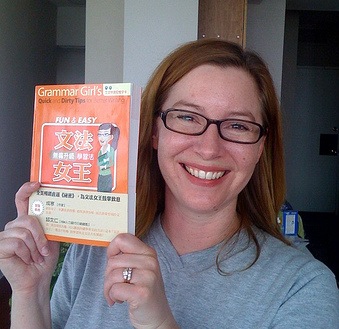 Buy the book in simple Chinese. (Since I can't read this page, I can't vouch for it personally, but someone who speaks Chinese sent me the link, so I presume it is legit.)
TRADEMARKING TWEET
URBAN DICTIONARY
The Slate Culture Podcast's on the merits and drawbacks of the Urban Dictionary site, and where I learned that Oxford University Press is getting ready to release their Historical Thesaurus of the Oxford English Dictionary.
FREE?
GODADDY
Use the code POD115 for 10% off.